Middle East peace talks falter over question of Israeli settlements (Guardian 14.9.2010)
Negotiators remain optimistic despite lack of progress as US repeats demand for fresh construction freeze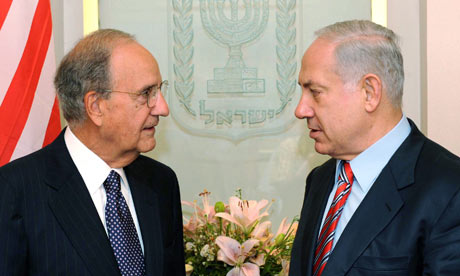 US Middle East envoy George Mitchell and Israeli prime minister Benjamin Netanyahu. Photograph: Avi Ohayon/EPAIsraeli-Palestinian negotiations limped into their second phase in Egypt today with little sign of progress as a row over West Bank settlement construction remained unresolved.
The US repeated its demand that Israel extend a 10-month partial freeze on settlement building before it expires later this month. "We think it makes sense to extend the moratorium," said Barack Obama's Middle East envoy George Mitchell immediately after the summit at the Red Sea resort of Sharm el-Sheikh.
Palestinian negotiators have repeatedly made clear that talks cannot continue if the freeze is not extended but Israeli officials countered that an "all or nothing" strategy could paralyse negotiations.
Hillary Clinton, the US secretary of state, remained optimistic on progress, but has yet to present any concrete evidence of it. Mitchell said the so-called "core" issues in the peace process were discussed, but all sides agreed not to reveal which ones or with what result. "Several were in a very serious, detailed and extensive discussion," Mitchell told reporters.
Talks between the Israeli prime minister, Binyamin Netanyahu, and the Palestinian president, Mahmoud Abbas, continued for longer than expected.
Analysts think US mediators might be looking for ways to shift positions on settlements palatable to both sides.
"They are trying find a formula that will minimise the settlements issue and put it in a broader context," said Akiva Eldar, columnist for Haaretz.
"Both sides know that any concessions made will create problems back home, so each has to prove to their constituencies that they got a reasonable payoff for those concessions – because, unfortunately, we are back in a zero-sum game." The talks, ceremonially relaunched in Washington on September 2 after a 20-month hiatus, are being held against a backdrop of disaffection and apathy on both sides. Hamas, the Islamist movement which governs Gaza describing them as "humiliating and degrading".
Ahmed Ja'abari, leader of Hamas's military wing, threatened a wave of violence intended to derail the talks. Hamas gunmen killed four Israeli settlers near the West Bank town of Hebron before the relaunch. Several PLO factions have also denounced the resumption of direct negotiations.
The Israeli daily Yediot Aharonot said describing the public reaction to the talks as "deep pessimism" would be an understatement. It published a poll showing that 71% percent of Israelis doubted the talks would lead to an agreement. In addition, 51% said the settlement construction freeze should be lifted, while 39% thought it should continue. Israeli media also reported that Jerusalem city planners would, in a few weeks, discuss proposals to build more than 1,000 homes in East Jerusalem, an announcement that could deal another blow to the talks. East Jerusalem, annexed by Israel, is occupied territory in international law.
Despite pessimism, both sides were seeking to accentuate the positive.
"Talks were very serious and in-depth," said Nabil Aburudeineh, one of the Palestinian negotiators.
"But we have to understand that the obstacle of settlements is still not resolved. We are in need of a lot of consultation with help from the US and others to find a way to tackle this."
Netanyahu's spokesman, Mark Regev, said: "We had good meetings in which substantive issues were discussed including the future of the [settlement] freeze."