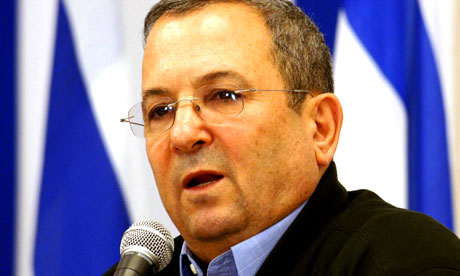 Ehud Barak's breakaway faction from the Israeli Labour party is expect to stay in the coalition government. Photograph: Ariel Hermony/AFP/Getty Images
Israel
's defence minister, Ehud Barak, today quit as leader of the Labour party to form a breakaway faction after weeks of mounting pressure over his continued support of Binyamin Netanyahu's rightwing coalition government.
Within hours three Labour cabinet ministers walked out of the government, increasing its instability but leaving Netanyahu with a small majority. Without Labour support the prime minister will be even more reliant on the far right.
Four other Labour members of the Knesset (parliament) joined Barak in the breakaway faction, called Atzmaut, or Independence, which is expected to stay in the coalition.
Their departure leaves eight Labour members of the Knesset. The move was quickly followed by three Labour cabinet ministers quitting the coalition. The social affairs minister, Isaac Herzog, the minority affairs minister, Avishay Braverman, and the trade minister, Binyamin Ben-Eliezer, have all criticised Barak's refusal to withdraw from the coalition.
His faction will be "centrist, Zionist and democratic", Barak said at a press conference, adding that he had concluded that a situation which involved "two Labour factions had to stop".
Barak's deputy, Matan Vilnai, who also quit the party, said in a letter to members: "The Labour faction in the Knesset has become an intolerable place, in which it was impossible to conduct a parliamentary life. At every meeting you never knew who was with you and who was ready to quit and join a different party."
There has been growing criticism within Labour of the party's continued support for the rightwing coalition. A series of senior ministers had called on Barak to instigate Labour's withdrawal in protest against the collapse of peace talks. One member, Daniel Ben-Simon, left Labour last week over the issue.
At a large pro-democracy rally in Tel Aviv at the weekend, Barak was castigated for remaining in the government.
Two Labour members, including the former leader Amir Peretz, were reportedly considering joining the centre-right Kadima party which is outside the coalition.
Herzog, who is expected to stand for the Labour leadership, welcomed Barak's move. "Today is a day of positive change," he said, adding that it would pave the way for "a renewal of the party and its return to social action and true vision".
Later he said: "The time has come to stop lying to ourselves and leave the government which has brought us to a dead end and forced upon us [foreign minister] Avigdor Lieberman and his party with its unacceptable racist discourse, which threatens our democracy."
Braverman, another likely leadership contender, said: "The crisis gives us a chance to rebuild a strong movement. The Labour movement is on a new path."
A prime ministerial aide told Israel Radio that Barak's decision to leave Labour would bring stability to the governing coalition.
A report in Haaretz suggested that Netanyahu had "facilitated" Barak's departure following the criticism. Yesterday, at the weekly cabinet meeting, Netanyahu was reported to have castigated Labour ministers over their demands to leave the coalition, saying their stance was shoring up the Palestinian position.
Splits within Israeli political parties are not new: Netanyahu became leader of Likud in 2005 when the then prime minister, Ariel Sharon, left to launch Kadima.
Meanwhile, Israel's president, Shimon Peres, criticised plans for a parliamentary investigation into the funding of civil and human rights groups, saying such a move would "harm Israeli democracy".