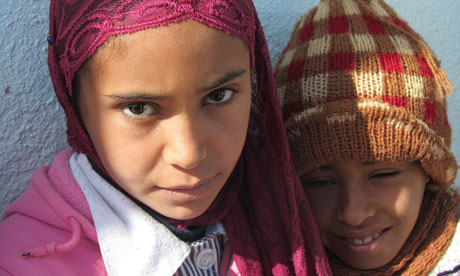 Nayfeh Ka'abneh and a friend. Photograph: Harriet Sherwood for the Guardian
Children taught outdoors after bulldozers reduce unauthorised buildings to rubble.
In a bleak but beautiful landscape of undulating stony hills I watched a group of Palestinian schoolchildren take their lessons yesterday in the open air next to a heap of rubble that, until this week, was their classroom.
This is the village of Dkaika, about as far south in the West Bank as you can get. It's a community of around 300 people, without electricity or running water, whose days are spent tending their herds of goats and sheep and trying not to attract the attention of nearby Jewish settlers.
On Wednesday, at about 7.30am, a convoy of military vehicles and bulldozers arrived to tear down 16 homes, an animal pen, a store and one of the village school's classrooms. All were subject to demolition orders, granted because the structures were built without permission, which is almost impossible for Palestinians to get around here. Dkaika is in Area C, under full Israeli military and civil control, which accounts for 60% of the West Bank.
At the time there were dozens of children inside the school. The soldiers tried to prevent the its three teachers from entering the building. Sulaima Najadah, 38, who has taught English at the school since last September, told me that he sneaked in to reassure the crying children.
"I was in this class," he said, pointing to the pile of twisted metal and masonry. "The soldiers took us out by force."
The teachers were handcuffed and blindfolded in front of their pupils before the bulldozers moved in. One girl, Mariam Odeh, 13, said she had been afraid the classroom would be demolished over their heads.
Twelve-year-old Nayfeh Ka'abneh lost her home as well as her classroom. That night she slept in a tent. "It wasn't comfortable," she said, shyly twisting the ends of her headscarf. "We want to rebuild our home."
In another tent, with a rug laid over bare stony ground and a small fire burning in a corner, Fida Najada, 24, said she had no money to reconstruct her home. Her husband, who was tending herds far from the village, did not yet know it had been demolished. Pregnant and with a small boy clinging to her legs, Najada had no idea how long she would have to live under canvas.
Between 50 and 60 people were made homeless by Wednesday's demolitions, adding to the 478 – many of them children – displaced in Area C in 2010, according to figures from the UN's Office for the Coordination of Humanitarian Affairs (OCHA). The number for the previous year was 319.
Residents had believed the demolition orders were on hold while a plan to regularise the village was considered by the Israeli authorities.
They did not deny that buildings were erected without permission. Palestinian building is rarely approved in Area C, in contrast to permits for settlement expansion.
The area has been inhabited by Palestinians since the Ottoman era, locals said. Its population swelled when families moved across the Green Line from the Negev after the war in 1948.
A spokesman for the Israeli military told me yesterday afternoon he would make inquiries about the demolitions. I will post any comment from the IDF on the thread below when it comes through.