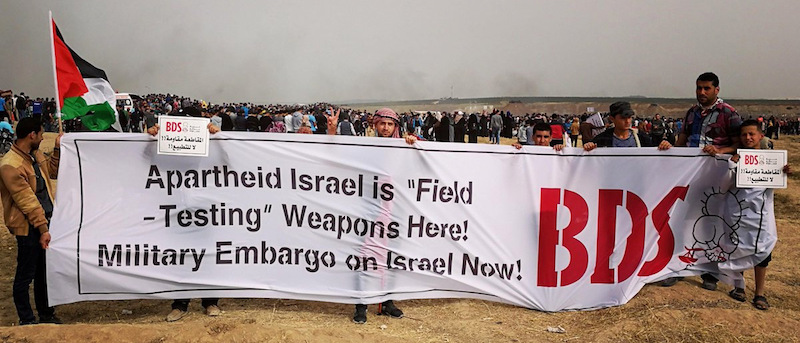 "Our systems are undergoing continual operational experience. Being field-proven, means that the systems we are selling worldwide have undergone a process of being tested in real-time, and used in operational and combat conditions and improved following feedback about performance."
Baruch Reshef, Deputy Director of ELTA Systems Ltd.
" Gaza has become a showroom for the company's 'smart fences' as customers appreciate that the products are battle-tested"
Saar Koursh – former CEO of Magal
Coalition of Women for Peace has just published a report about "Israeli military Industries and the Oppression of the Great March of Return in Gaza" focusing on the arms developed, used, and essentially advertised by Israel to prospective international clients during the recent massacre of civilians in Gaza.
The report emphasises that the Israeli military operations on Gaza in the past decade have been especially profitable for the country's military industries. Both private companies and the Israeli government alike use Gaza as an opportunity to test new weapons, technologies and methods to be marketed based on their new operational success.
"The Israeli military industry exploits the occupation of Palestine, and specifically the siege on Gaza, as an arena to battle-test, invest in, and innovate military technology to later be marketed to the international community based on their effectiveness on Palestinian Civilians" – the report reads.
According to the organisation, the Great Return March revealed two newly developing ISF strategies: the increased use of snipers in "eliminating threats" and of drones in controlling—and dispersing—crowds.
Among new weapons tested by Israel are:
a new tear gas drone, "Sea of Tears", designed specifically for use in Gaza, to be used on the protesters as a crowd dispersal tool.

the skunk water drone "Shocko"

expanding (dumdum) bullets, a unique type that opens up after penetrating the skin, destroying tissue and internal organs, and causing more severe injuries for faster incapacitation.
The use of drones to attack is a dangerous strategy that can be used in the future against protestors and passerby civilians in Palestine, without any accountability. Today, Israel already sells those drones, for example, to five different armies using them in Afghanistan. However, use in Gaza and in the West Bank are new developments.
Both skunk water and tear gas have been used by the ISF in the West Bank and East Jerusalem, as well. Intended to push away protestors, both methods have been used in demonstrations; however, they have both also been used as more routine means of population control alongside.
The report concludes that the Israeli military "made deliberate choices to kill and permanently injure considerable numbers of Palestinian civilians", with the crackdown on the march also providing "the military with a platform to introduce and showcase the use of drones as the strategic choice of the present and future".
Through its Horizon 2020 research program the EU has approved more than 200 projects with Israeli companies, such as Elbit Systems and Israel Aerospace Industries, that are accused of deep complicity in Israel's war crimes and possible crimes against humanity.