Over 60 Palestinians were killed, including seven children and around 2000 demonstrators were injured on Monday, May 14th, as Israeli snipers fired live ammunition at protesters commemorating the 70th anniversary this week of the Nakba and protesting against the opening of the US embassy in East Jerusalem.
Posted on 17 maY2018

http://www.eccpalestine.org/after-israels-massacre-in-gaza-the-eu-must-impose-military-embargo-on-israel/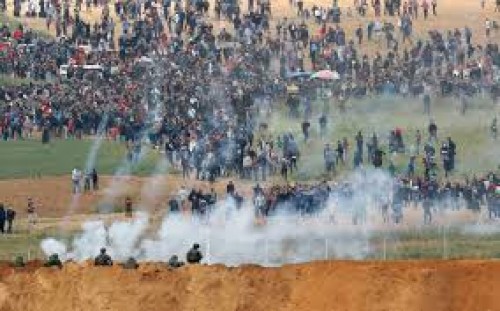 The Gaza Strip remains under Israel's over 50-year-long military rule and decade-old illegal blockade by air, sea and land, totally cut off from the world. Since 2007 Israel has carried out three major military assaults (2008–09, 2012 and again in 2014) against Gaza, and countless raids in between, unleashing the force of the region's most powerful army—and sole nuclear power—on one of the most densely populated refugee areas in the world.
Amnesty International condemned the use of « excessive force » by Israeli forces and said they may amount to war crimes. Zeid Ra'ad al-Hussein, United Nations High Commissioner for Human Rights, said « those responsible for outrageous human rights violations must be held to account, » while Human Rights Watch described the killings as a « bloodbath ».
Medical sources in the Gaza Strip have reported that many of those hit with live bullets suffered large tissue lacerations and big holes in the injured part, indicating the bullets used by the Israeli forces are explosive live bullets in violation of international law. Human rights organisations Amnesty International and Human Rights Watch have condemned Israel's use of lethal and other excessive force and called for independent and effective investigations. Amnesty International has also launched a campaign promoting an arms embargo on Israel as a result of the unlawful killing and maiming of the protesters in Gaza.
As ECCP we demand:
An immediate, independent and international investigation  into Israel's killings that may amount to war crimes;
A comprehensive arms embargo on Israel following the country's disproportionate response to mass demonstrations along the fence that separates the Gaza Strip from Israel and the use of war weapons against unarmed civilians;
Sanctions against Israel for its flagrant violations of international law, including the annexation of a territory by force, the denial of the right to self determination and the crime of apartheid
ICAHD Finland is part of ECCP.